Here's a wrap up post for the UX activities hosted at the Mozilla work week, originally posted by Tiffanie Shakespeare on Medium…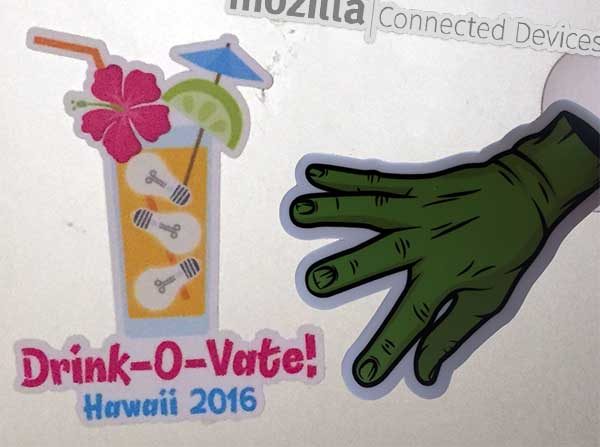 This past work week in Hawaii (aka #mozAloha), the Connected Devices UX team put together the following two activities.
Drink-O-Vate
The first was Drink-O-Vate hosted on Thursday after the electives. Using a UX methodology called Mash Ups, people created new and whacky product ideas. For our session, we used the format "what if [a company] created [an object] for [an audience]?" I think one of the harder ones was "what if Polaroid created a dishwasher for people with arachnophobia?" The results can be hilarious, but the method can also be incredibly useful to break out of a brainstorming slump.
Drink-O-Vate was a huge success and everyone who attended our session had a lot of fun. It was fantastic to see so many people from all over Mozilla come out and participate.

MyrderHouse
The other activity was MyrderHouse located in the CD Homeroom (Kona 5). This ended up being a collaboration between MoCo and MoFo and was a lot of fun to set up. We provided a dollhouse and props for people to create a short film about their very own IoT murder scenario (basically IoT going sideways). While it was clear that our filmmakers had fun, the location of the activity really hurt participation.

You can find the Myrder House films on Instagram: https://www.instagram.com/myrderhouse/
Many thanks to our Drink-O-Vate idea generators, MyrderHouse filmmakers, MoFo collaborators (Kevin Fann, Jordan Gushwa, and Natalie Worth), Emily Dunham, and the CD UX team.
Hopefully you were able to participate in one of our activities and we'll see you in SF!